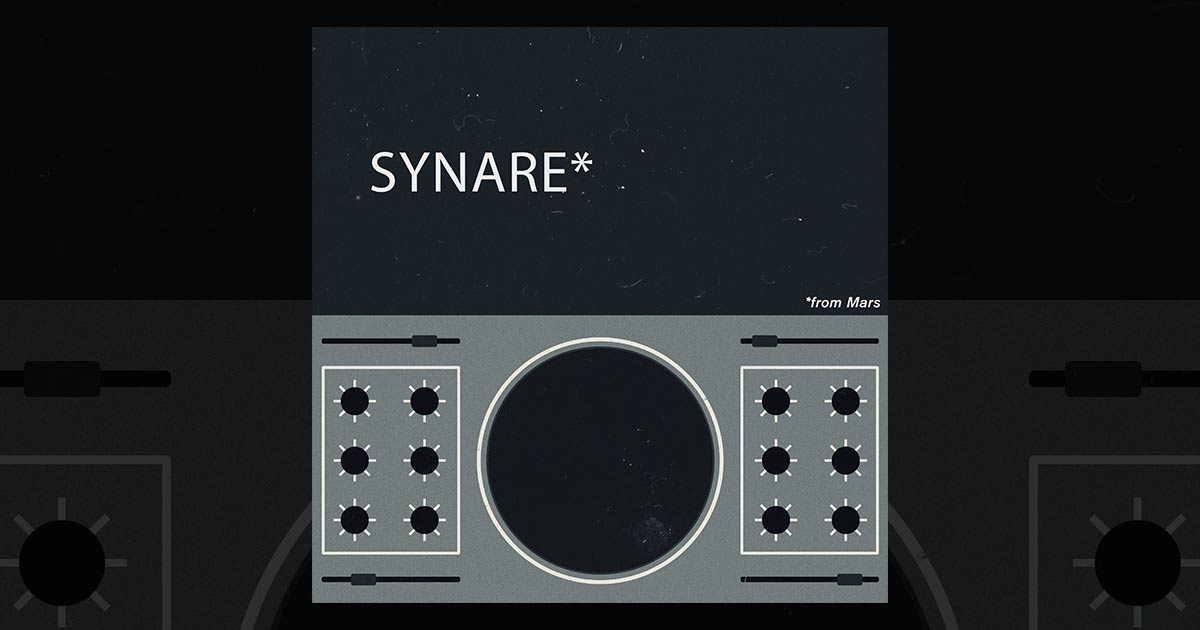 Synare From Mars
Free For A Limited Time!!
The Synare is an analog drum synth created in the mid 70s by Star Instruments. It looks and sounds like the most evil, analog flying saucer you've ever heard. The oscillators are huge, and reminiscent of much more expensive vintage synths – colored and extremely characterful – and the filter has the meanest resonance we've ever heard.
And while it's most famous for that classic disco tom (beew, beew!), the Synare was also the original reggae dub siren and remains the ultimate secret weapon for all things other-worldly: UFO sounds, cosmic FX, brash white noise, and ungodly analog sub bass, to name a few.
The Recording Process
It its original form (using a drum stick to hit the drum) the Synare can initially appear quite basic, featuring only 5 presets and a single pad. But with enough creativity you can coax the most evil, undying space creature from the 70s out of it. Combine its tough analog drums, demonic drones, soft synth leads and soul-sucking FX and you get the most wicked and evil psychedelia:
Classic Analog Drums
For drums, the Synare is quite expressive for a multitude of reasons:
The filter is extremely characterful, and its resonance has a devilish tone unlike anything we've ever heard, especially when pushed into self oscillation.
The envelope amount of this filter is modulated via velocity, and when combined with varying decays, can produce very unique tones and "pitch modulation" when in self-oscillation (like the famous Tom preset)
The oscillators are gigantic and extremely colored – reminiscent of pricey vintage synthesizers like old Moogs and EMLs
The white noise is thick and, combined with the filter, quite brash.
The LFO, combined with frequency modulation, and the velocity modulated filter, can lead to truly tripped out madness
To take full advantage of these velocity modulation features while recording, we sampled a gate signal from a synthesizer, popped it in an Ableton sampler, and sent that signal out at many different velocities into the trigger input of the Synare.
This means that for the majority of drum and FX sounds, you'll get heavily multi-sampled groups, featuring varying degrees of envelope modulation, tom pitches, frequency modulation, and more, capturing the flexibility and movement of the original Synare.
All drums were recorded through our trusty Tube Reddi, API preamp and Otari 1/4″ mastering reel to reel. Besides the Bass Drum (which does not exist on the Synare, and was created out of thin air with heavy processing), they are entirely unprocessed.
Huge Sub Bass and Chromatic Instruments
The oscillators on the Synare are comparable to the more expensive vintage synths, in both tone and weight. If this thing had a CV input it would be one of the most killer analog synths of all time. Unfortunately it does not, so we had to get a bit creative.
We took the same sampled trigger from above, this time *looping it* to create an infinite sustain, equal in amplitude to the attack (thus creating the huge size of the sub). We then sent this to the Synare, and hand tuned (with a guitar tuner) every single note on the oscillator, capturing this cleanly, but also through an extensive array of analog filters (Moog, Overstayer), Hard clipping and EQ.
Wild, Cosmic FX
In addition to the dry one hits, we ran the Synare through its best friend, an original Re-201 Space Echo, into an Eventide H3000, jamming, twisting and turning, achieving insanely psychedelic (and long) drones, Pitch shifted melodies, Industrial bells, screaming whistles, rabbit holes, UFOs (landing and taking off), effected toms, bit crushed percussion, space lasers, and UFOs. Recording the results to tape.
These are perfect for ambient intros, outros, or adding instant cosmic energy builds, and dry versions are also available. This section of the Synare From Mars comes in at just under a GB on its own.
In the End
More than any other product, the Synare is truly "From Mars". And If you can't tell, it's been a personal favorite for at least the past decade. Honestly I have no clue how many people know about these things – but to me the Synare is one of the most unique and evil sounding synths of all time and all should submit to its demonic power. Its heavy, analog sound is something that just cannot be achieved with any other synth or drum synth (none of the clones come close).
The Synare From Mars is by far the largest and most in depth offering of Synare samples available – aside from the classic drum one hits, it's really these huge, multi-sampled subs, and wild FX / drones that set this pack apart. So whether you've been searching for high quality samples of this guy or you have no clue what a Synare is or how to pronounce it, you should definitely be able to find some crazy cosmic snacks in here for your favorite sampler.
Contents:

1900+ 24bit WAV Synare Samples
10 pre-made 16x hit kits for instant jamming
8x multi-sampled chromatic Synare synths
Drum one hits, chromatic instruments and evil FX
Analog Bass Drums, White Noise Snares, Classically Cosmic Toms, all presets
FM Toms, spiraling LFOs, lasers, sirens, brash noise sweeps, UFO babies, blips, and rabbit holes
Crazy Synare twists and knob turns, long drones recorded through an original Space Echo & H3000 (includes dry versions)
Ableton includes (4) drum racks with extensive sample selection, hardware parameter and FX mapping and (8) chromatic instruments
Kontakt, Logic, Reason & Structure include: (40) individual hit instruments, (3) kits instruments, and (8) chromatic instruments
Maschine & Battery include: 10 pre-made kits
MPC1000 & MPC2500 include: 10 pre-made kits on 3 MPC Programs
2.06 GB Unzipped