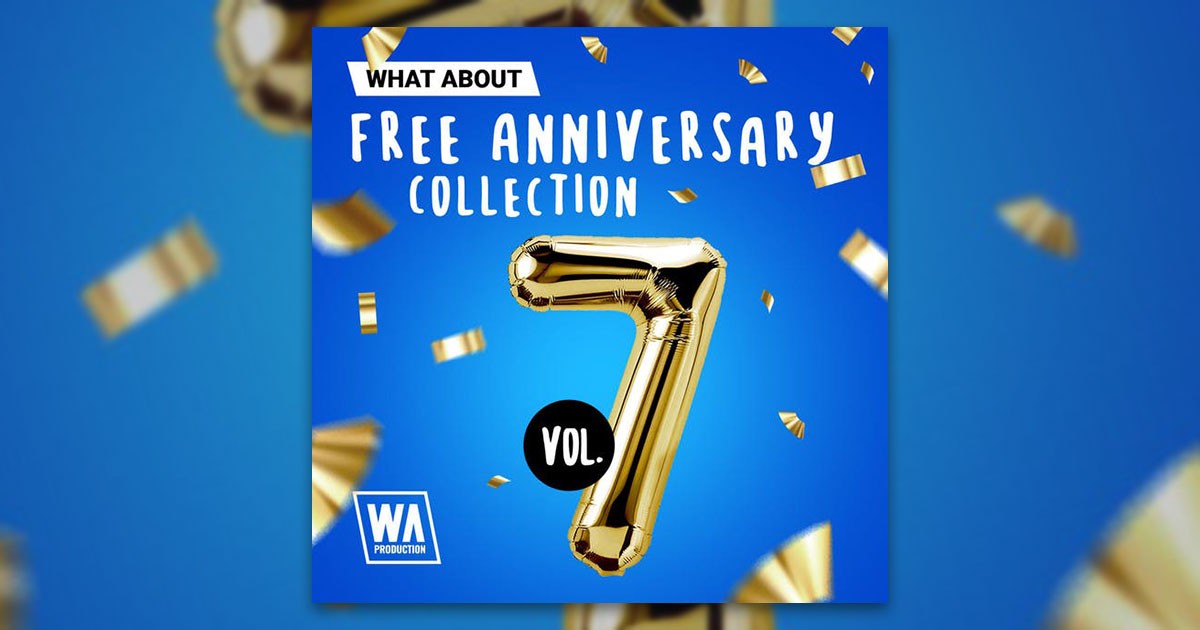 Free Anniversary Collection Vol. 7 – 10GB Of Free Sounds!
Download 10 Gigabytes Of Free Samples From WA Production...
It's WA Productions' anniversary, but instead of getting them gifts, they are giving them to you, completely FREE!
Browse a handpicked huge collection of some of the best sounds from the past year in the What About: Free Anniversary Collection Volume 7 free sample pack.
No matter your preferred genres or taste, this collection has plenty to get excited about! With samples covering Dubstep, Hardstyle, Lofi, Synthwave, G House, Bass House, Trap, Electro, and much, much more, there's truly something for everyone! If you're in need of an instant inspiration boost, look no further than this incredible pack.
Download What About: Free Anniversary Collection Volume 7 for FREE today and get to work!
Product details:
10 GBs of content (Uncompressed)
2000+ Files
Construction Kits
Presets for Serum, Sylenth1, Spire, Massive
Melody Loops and Synth Shots
Drum Loops and Drum Shots
FX
Vocal Loops, Acapellas and Vocal Shouts
MIDI Loops
… & more!
100% Royalty Free!
Included are sounds from the following packs:
What About: Blazed Dubstep
What About: EDM Vishnu
What About: Hardstyle Oracle
What About: Lofi Illusion
What About: EDM Synthwave Vocals
What About: Bass House Beast
What About: EDM Reggaeton
What About: Melodic Dubstep Torch
What About: Future House Sting
What About: Electro Stampede
What About: Hybrid Trap Phoenix
What About: Future Pop Ghost
What About: Cinematic Tension & FX 2
What About: Riddim Dubstep Bite
What About: Synthwave Arcade 2
What About: Future Bass Shadow
What About: Lofi Hip Hop Fantasy
What About: Future Dubstep Jade
What About: Loud Vocals
What About: Born For Hardstyle
What About: Shark Bass House
What About: EDM Mandala
What About: Raw Techno
What About: G House Cosmos
What About: Melodic Dubstep Vocals
What About: Lofi Hip Hop Daydream
What About: Loud EDM
What About: Riddim Bullets
What About: Slap House Substance
What About: Future Dubstep Elixir
What About: Sinhala EDM Vocals
What About: Techno Extract
What About: Lofi Cinematic & Movie Sounds
What About: Lofi Illusion 2
What About: Techno Stamina
What About: Sound Of Cyberpunk
What About: Dirty House Fever
What About: Cinematic Horror Sounds & FX
What About: Brazilian Bass Blast
What About: Spicy Vocal Trap
What About: FX Essentials 3
What About: Loud EDM 2
What About: Holy Bass House
What About: Scifi Movie Sounds & FX
What About: Brazilian Bass Slap